[ad_1]
By Caroline Coile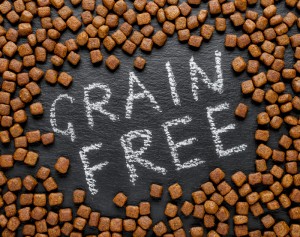 On December 22, 2022, the FDA released it's current update, and overall third public report, on the status of non-hereditary canine dilated cardiomyopathy (DCM) and grain-free diets. The FDA began investigating the issue in July 2018, when a high number of dogs eating certain grain-free diets containing a high proportion of peas, lentils, other legume seeds (pulses), and/or potatoes in various forms (whole, flour, protein, etc.) as main ingredients (listed within the first 10 ingredients in the ingredient list, before vitamins and minerals) developed DCM. Many of these case reports included breeds, such as Doberman Pinscher, Irish Wolfhound, Great Dane, or Cocker Spaniel not previously known to have a genetic predisposition to the disease. Instead, most reported breeds were Golden Retriever, mixed breeds, Labrador Retrievers, Great Danes, Pit Bulls, German Shepherd Dogs, Dobermans, and Australian Shepherds, with the first three making up the majority of breeds. This of course is also a function of breed popularity. The vast majority ate a dry dog food diet (especially Arcana, Zignature, Taste of the Wild, 4Health, Earthborn Holistic, Blue Buffalo, Nature's Domain and Fromm). Note that since this 2019 report, many if not all of these brands have changed their formulations so these cannot be considered a current status regrading brand. At the time, more than 90 percent of products were "grain-free," and 93 percent of reported products had peas and/or lentils. A far smaller proportion contained potatoes. No abnormal levels of protein, fat, fiber, starch, cysteine, methionine, taurine, minerals, metals or amino acids were found through product testing.
In September 2020, the FDA, along with experts from academia, industry and veterinary medicine, met to collaborate on the situation. Based on these findings the FDA has issued responses to several common questions:
How does non-hereditary DCM differ from hereditary forms?  The major differences are that it more often occurs in breeds not known for hereditary DCM (as well as those known for it) and especially, that when caught early, many cases improve with a change in diet.
What is the FDA doing to help understand the situation? The FDA continues to work with veterinary cardiologists, nutritionists and the dog food industry examining formulation, nutrient bioavailability, ingredient sourcing, and diet processing to determine if there are any common factors. They have asked for dog food companies to provide their formulation data, which the FDA will keep confidential.
How many reports of DCM has the FDA received? The FDA continues to receive reports but at a lower level than between 2018 and 2020. It's not known if this lower level has to do with avoidance of grain-free diets, improved formulation of these diets, or lower awareness of the situation. Increased numbers of reports occurred after the 2018, 2019 and 2020 updates, but not after the 2021 update (but that one was less publicized). A total of 1382 cases have been reported.
What do the diets associated with non-hereditary DCM have in common? Most of the diets have legume seed ingredients, also called "pulses" (e.g., peas, lentils, etc.), high in their ingredient lists. Although soy is a legume, it did not appear to be associated with non-hereditary DCM).  This association exists for both grain-free and grain-containing diets, but pulse ingredients are used in grain-free diets in greater proportion than in grain-containing diets. Note that these ingredients have been used in dog foods for years, but generally at lower levels.
What's next? The FDA continues to work with the scientific community but at this time plans no further updates unless additional information is found.
Questions & Answers: FDA's Work on Potential Causes of Non-Hereditary DCM in Dogs | FDA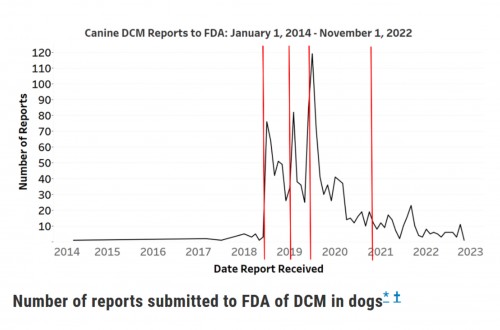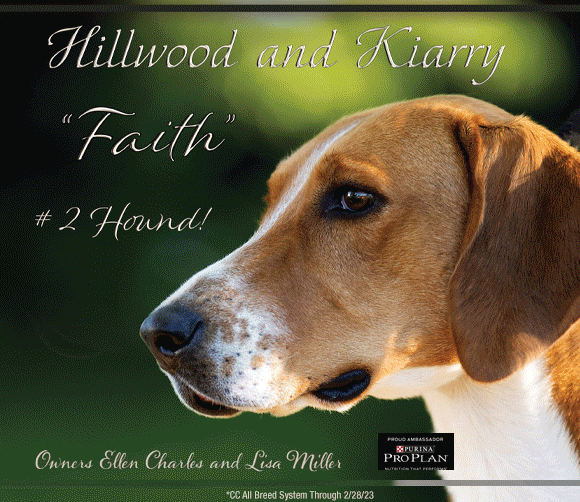 Short URL: https://caninechronicle.com/?p=260151

[ad_2]

Source by [author_name]